I'm so very excited to be reunited with some of my fellow Vixens in 3 weeks! I'm going to be getting to see Jessi Slaughter, Rev. Arielle, Lola Hart, Athena Hallow, and I also get to meet some new Vixens as well. Talk about hella exciting! Im seriously just so pumped to be around so many like-minded individuals and make some awesome, cheesy porn!
Oh man, the upcoming movie My Little Porny. That's why we're all getting together - to make that. I'm both nervous and excited. Granted, I've now done a girl on girl screen videos AND photos wise, but I never have done a male on female scene. Sure I've done still photos, but that was much more... private ;) . I'm really excited though, I'm sure it'll be a blast.
I was even able to put on a little bit of my costume and show it off on twitter. Don't worry, here's the photo: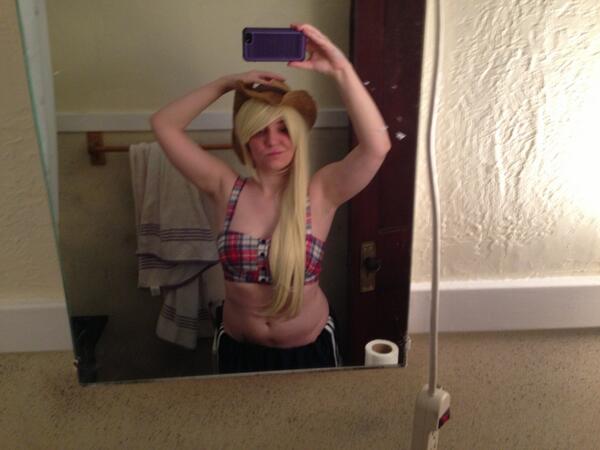 I've put myself on a healthier diet in order to try to look my very best for the DVD. Granted, I LOVE how I look - but why not be healthier to make sure I can keep up with all my other sexy ladies and gents?! hehe.
But yeah, I hope the time goes by faster. I'm just so ready for everyone to hang out, have fun, shoot amazing content, and just be together! Many vixens under one roof always is a plan for a good time!
Yeah, that's all I really have to talk about. I guess I'll blog later! Ta-ta!